Written by April Cunningham, Pelican Waters Golden Beach Kindergarten & Childcare
---
An opportunity to create an understanding of culture, and connection with mother Earth
Late last year 2015, I was given the incredible opportunity to mentor 18 Early Childhood Education and Care service types across the South-East QLD for an Action Research Project named "Standing up for a Natural Childhood."
I jumped at this opportunity, as I am passionate about early childhood education and embedding the Aboriginal and Torres Strait Islander perspectives so everyone can have a true deep understanding and respect of my culture and the Torres Strait Islander culture.  I am also a strong advocate for children being able to immerse in nature and connect with mother Earth. I was very excited for the incredible journey ahead.
During the eight-month period, I travelled to all centres, and engaged in each of the communities and embraced what they were doing within their centres.  The services all had their own questions, which they wanted to explore and achieve. Together the facilitator, mentor and services met regularly to discuss in deep conversations, collaboration and reflection on making a real change in the lives of our children- to be truly immersed in nature with less screen time- and we had some great outcomes!
---
Overcoming fear: where to start
During my mentoring, I observed that the majority of the participants were unsure or fearful when embedding cultural practice in their service. Some services were worried that they were not culturally competent within their practice, and some simply did not know where to start due to minimal knowledge, awareness or connections. 
The following points are suggestions I had given throughout the mentoring:
Do something rather than do nothing. It is too important not to do anything.

Build up a relationship with an Aboriginal and Torres Strait Islander in your service or community. Try to source this connection if you can.

Find out what country you are on. Ask around or seek other services that may be able to help you connect.

Find out the history, people, land (any sacred sites) and stories on your country.

Connect with your local elders and absorb everything from them. Elders are like your grandparents, they are the ones who carry the knowledge and wisdom that you can pass on to further generations.

Simply offer your elders or Aboriginal and Torres Strait Islander guests a cup of tea/ coffee and have a good yarn with them. This is the start of building a great, long relationship that you will enjoy and cherish for a long time.

Be respectful, warm and genuine. This is key. Your guests and elders will know if you are truly interested and genuine towards them by this spiritual and intuitive connection from within.
Hi Lee,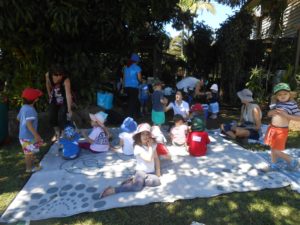 I would love to take this opportunity to thank Global Kids Oz for donating this beautiful multicultural mat, ECW for allowing me to have a voice in my Cultural Inclusion article and the wonderful service at Pelican Waters Golden Beach Kindergarten for giving up their time and efforts for this image to be taken with the children out at the Strawberry Fields!
Many thanks,
April Cunningham
I respectfully acknowledge the traditional owners of the land that I live, work and travel on and pay my respects to the elders past, present and future.