Written by Loretta Davis
What was the motivation for the advocacy projects?
The motivation was to provide educators with an extra sense of purpose and responsibility, and to help them use their passions and interests to make a change within everyday experiences, educator practices, connections with children and families and become a source of professional development for our educators, and educators outside of our service also.
Julia (company director) explains, "As an educator I have always felt passionately that we should advocate for our profession. I believe part of our role is advocacy in the wider community. As I considered this I decided that it should be a core component of the company I wanted to build. I also found that as I was interviewing individuals such as Loretta, I could see interesting passions becoming clear and for her, it was the rights of children. Quickly, the idea came together that we should have an advocate for every area of our practice. This would not only give every individual the opportunity for leadership, but also reduce some of the overall workload by sharing it amongst our educators."
What were you hoping to achieve?     
We were hoping to share the vision of making early education a better place not only for children, but also for the educators and families. By bridging together knowledge, research and experience within the various environments of the service, the families' homes and lives and the community, we could establish a strong sense of collaboration and learning together. Another aim of the advocacy that evolved was for these roles to become living documents, ever changing, constantly worked on, changed or adapted, reflecting current needs and events that were evident in our service and community.
Julia adds,
"The general reaction of when I told them the idea (of the advocacy roles) was excitement and passion. Our educators grabbed the idea with two hands and picked their roles wisely. Sometimes finding the starting point was hard but it was great to see individuals believing in something."
What is your practice?
Each educator has their own advocacy role. Using a strengths based approach, educators identify their interests and passions and take on a suitable role to advocate for. The various roles we have are: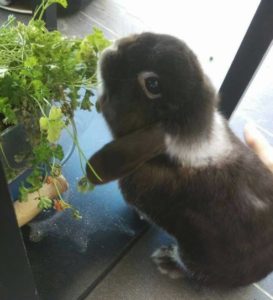 – Community advocate
– Sustainability advocate
– Children's Rights advocate
– Billy Bunny advocate (for our service's rabbit)
– Educational program advocate
– Educator's advocate
– Health advocate
– Safety advocate
– Outdoor advocate
– Organisational advocate
– Belonging advocate
– Social advocate
At the beginning of each year, educators create goals to work towards in regards to our advocacy. These goals could and have included hosting parent information evenings, holding professional development sessions, connecting through events such as picnics and bushwalks, creating or changing policies or procedures, using surveys to gather information from various stake holders, asking the children for their input, ideas or feedback and writing and submitting blogs or articles. Educators have an hour a week that is dedicated to our advocacy. This time is used for research, writing, documenting, planning or having collaborative professional conversations with colleagues. This time is separate from our programming and planning time, making our advocacy a separate component of our curriculum and allows it to remain a priority of our focus, without overtaking programming needs.
Reflection on your practice…
"To have witnessed what our advocacy project inspires in our educators is something I feel very privileged of. The pride and passion that oozes out of educators when they can make a stand for something that they truly believe in as they encourage different perspectives to be viewed, regardless of current biases that exist. One thing that stands out most for myself is how interconnected all of our advocacy projects are. Not only do the educators have the opportunity to work on a passion of theirs, but they can team up with another person and learn with and from their colleagues on a different, deeper level. The possibilities are endless and I am excited to continue exploring this journey with my colleagues."                                  – Moniqui (centre director).
The advocacy roles have become an important part of our identities as educators. There are many times, as educators, we forget that we have the chance to advocate for better practice, better conditions for children and families and a higher chance of successful learning and development not only for children, but for their families and for our educators as well. The advocacy roles have helped us advocate for ourselves, as we find ourselves in the role of being a researcher, an informer and a teacher to our stakeholders and community.
Reflecting two years later after the projects began Julia shares,
"I think they have evolved and changed based on each individual who took them on. For example, our health advocate was originally focused on nutrition and how to teach this to children and families. Our current advocate is focusing on development of motor skills as a component of child health. We also have seen new roles evolve such as one of our Handprints Killara educators taking on a wellbeing advocacy project, and focusing on staff mental health and fitness."
Literature tells us that individuals need to feel a sense of responsibility and leadership, and not just respond to others as leaders (Wanigayake, Cheeseman, Fenech, Hadley, & Shepherd 2012). We also know from research that allowing individuals to be leaders in their environments contributes to their intrinsic motivation and increases job satisfaction, leading to low staff turnover (Gibson, 2015). The Handprints advocates thrive in our roles. We collaborate, discuss ideas, question practices and problem solve together, in respectful partnerships. This contributes to our professional development and strengthens our capacities as individuals as well as a team.
Overall, the roles really help educators to connect with one another and the families, build confidence in themselves as change-makers and provide extra perspective, skills, knowledge and ideas – creating the richness of wonder that is Handprints ELC.
What were your successes and challenges?
Success have included events that have been planned including parent nights, family gathering days, and workshops for educators. We have been able to collect voices from the children, other educators and our families to contribute to the development of the advocacy roles and help the educational component of these roles seep out, affecting our community. Challenges have included supporting educators who just weren't too sure where to start, or who weren't too confident in their abilities to explore research or find their own direction to follow. The roles are so personal, that whichever direction the educator takes them, they are still a success.
Where to now?
Opportunities are endless. From further articles and blogs that our educators could write, to presentations at conferences… who knows. We would really like to continue our advocacy, and work with other services to educate them about how they can begin their own advocacy work also. We want to inspire the advocates within educators and remind them that their voices and their actions can change our profession for the better. Better practice starts with us, it starts with discussions, sharing ideas and not being protective of any idea we come up with. We need to shout our successes and challenges from the rooftops and encourage others to come along for the ride with us.
Wanigayake, M., Cheeseman, S., Fenech, M., Hadley, F. & Shepherd, W. (2012). Leadership: Contexts and Complexities in Early Childhood Education. Melbourne: Oxford University Press.
Gibson, M. (2015). Leadership for creating cultures of sustainability. In Young children and the environment: Early education for sustainability. (2nd ed.). (pp56-74.). Melbourne: Cambridge University Press.